HELLO P6F !!!
Joe Wicks has a great workout everyday at 9am which is saved on his YouTube page to do whenever you like  . . .
Modern Languages – try to complete 3 tasks from this grid over the next week.
Modern Languages 1 Second Level
VE day task –
I will be putting up an 'assignment' on Microsoft Teams all about VE day. Have a look and see if you can type up your learning and submit this to me.
Literacy
Spelling – mixture of words from previous 4 weeks
Have a final look at your spelling words before asking someone at home to test you on these. Maybe the person testing you could give you the word in a sentence? If they do this – write out the full sentence in your Literacy jotter. Good Luck and remember to send me your scores. Thank you to those who already do this – much appreciated!
Spelling words and task 4.5.20
Reading – Proof Reading
Have a look at this week's proof reading task and see if you can correct the mistakes. As always try to take one element at a time. (e.g. full stops, capital letters . . . )
Numeracy
Number – 11 and 12 times table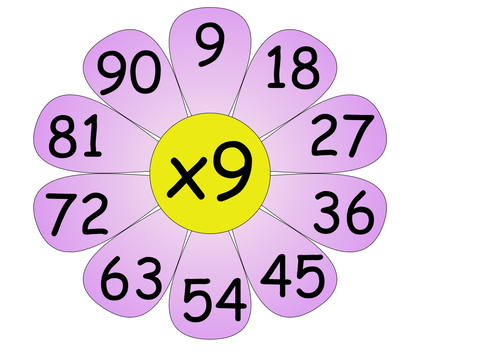 Create your own Times Table Flower like the one above for the 11 and 12 times table. Can you create another layer of petals to write corresponding division facts on? To see a selection of these designs google 'times table flowers'. If you would like to create a different design other than a flower then that would be wonderful also.
Shape – this task will last 2 days
Test yourself on the properties of 2D and 3D shape. How have you done? What is your score out of 23? Message me on Teams or e-mail me and let me know!
I will save all the resources in Teams so if any file does not open have a look for it on Microsoft Teams.
As always any questions . . . just ask!
Miss Fotheringham